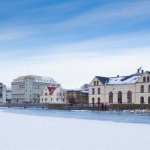 Tour provider in Iceland Reykjavik Excursions is offering two tours in Reykjavik to discover the country's Christmas and New Year's Eve traditions.
The first tour is a trip through the magical Christmas streets of Reykjavik, learning about the Christmas traditions of Iceland, from history, art and architecture, culture, and cuisine.
As part of the tour, Reykjavik Christmas Walk, visitors will be stopping at various restaurants, giving visitors a taste of Iceland's culinary traditions, including fermented shark, smoked lamb, and mulled wine.
On the last leg of the tour, visitors will have the opportunity to learn about Iceland's culinary history with the head chef from one of Reykjavik's oldest hotels. At the end of the tour, visitors will take a peek at the country's largest private art collection and receive a little Christmas gift to take home with them.
Next, Reykjavik Excursions' second tour will give you the opportunity to experience Iceland's traditional fireworks and bonfire displays as 2014 turns to 2015.
At the stroke of midnight in Reykjavik, night turns to day when hundreds of fireworks illuminate the city's skyline. Viewers will experience the exploding rockets and dancing lights sparkle, as well as other festivities with the Icelandic locals.
For more information about Reykjavik Excursions' Reykjavik Christmas Walk, click here, and to learn more about the New Year's Eve Bonfire Tour, visit https://www.re.is/day-tours/bonfire-tour