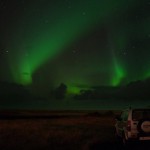 Blue Car Rental is offering self drive tours for visitors to enjoy the wonders of Iceland's winter travel.
Winter in Iceland brings the incredible Northern Lights, and the shortage of daylight sees the country's beautiful scenery completely transform from the summer months.
During the winter months, Icelandic roads can be tricky to navigate; however, with good tyres and well-equipped vehicles there is nothing stopping visitors explore Iceland at its harshest yet most beautiful time of the year.
In light of this, Blue Car Rental provides studded winter tires on all of its rental cars between 15th October 2014 and 15th April 2015. Plus, Blue Car Rental offers all insurance for free (TP, GP, CDW, SCDW) for an added security and carefree vacation.
As part of the company's fleet, Blue Car Rental has a variety of vehicles suitable for all weather and road conditions. These include Suzuki Jimny, Hyundai Tucson, and Toyota Land Cruiser vehicles.
Furthermore, pick-up locations are flexible; customers can choose to get their rental car delivered on arrival, at their hotel, at the Blue Lagoon, or at any other place of convenience. The company offers pick-up and drop off at any time during the whole day, 24/7.
Further information about Blue Car Rental in Iceland can be found at www.bluecarrental.is.