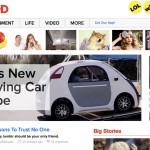 A recent interview published by TUjobs.com reveals what has contributed to Buzzfeed's success, and why it continues to sky-rocket.
The eight year old website made popular by hilarious "best of" lists, feel-good photo collections and cute cat videos is more than just an entertainment site. In fact, the New York Times listed them as one of their most threatening competitors in a recent internal report.
Buzzfeed is now operating outside of the U.S. in cities such as Moscow, Cairo, Istanbul, London, Sydney and Berlin. Bringing Buzzfeed.com to new countries outside of the U. S. as VP of International, Scott Lamb claims the three factors that lay the foundation of Buzzfeed's success are:
"1. – Our editorial process was initially very experimental, and driven by data analysis.We found out what people were talking about and what they shared, and built on this information. We were never scared to fail.
2. – We invested heavily in technology and had large teams of programmers.The first year, we wanted as many developers as editorial personnel, because they helped us find functional narrative forms and good advertising solutions.
3. – We had our share of luck. In 2006 Twitter was a new phenomenon and Facebook was mostly for college students. We focused on viral proliferation and grew with the pioneers. You could say that we were in the right place at the right time – it wouldn't have been possible to establish Buzzfeed a few years earlier."
As the company makes their way into the arena of serious news, the website will feature a balanced mix of 50% news and 50% entertainment. The news section will feature the latest breaking stories while the goal of the entertainment section will continue to be traffic creation and generating shares. Today, 150 journalists and external contributors of Buzzfeed produce over 400 posts a day and 75% of all traffic arrives through social media.
"We use a lot of developing time with tools that enable reporters to share their cases more. A lot is about functional narratives that work for every case – from lists and quizzes, to videos and games. And we have a mobile app that performs really well – this is significant because half of our traffic comes through mobile devices, and the traffic increases."
When asked, "Is it difficult to communicate believable news reporting through a webpage like this?" Mr Lamb replies, "I don't worry about that. Our readers are used to getting the news served in a mashed up Facebook feed where Syria cases are side by side with the latest scandal of Miley Cyrus. In the same way that the readers sort these impressions, they can handle the variations on Buzzfeed."
To follow the latest technology news, visit TUjobs.com.