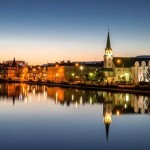 Leading provider of rental cars in Iceland, RED Car Rental provides its customers with a free airport transfer from Keflavik to Reykjavik through the Flybus network. This allows travellers landing at Keflavik International Airport to pick up their rental car in Reykjavik at the company's headquarters located at the BSI bus terminal.
Customers can choose to pick up their car from Keflavik International Airport or from the agency's office in Reykjavik, in which case they will be granted a free return ticket on the Flybus airport shuttle to and from the airport.
RED Car Rental's fleet only includes the newest models, from 2013 or newer. Models include eco-friendly cars such as Toyota Aygo and Hyundai i20, luxury sedans like the BMW 318 or the BMW X5, as well as robust 4×4 vehicles such as the Dacia Duster and the Landrover Discovery.
In addition, RED Car Rental offers a 10 percent discount to customers who prepay their rental car online.
RED Car Rental is part of Iceland's largest travel network Kynnisferdir, the mother company behind leading Iceland tour provider Reykjavik Excursions, and the Flybus airport shuttle.
To book a car in Iceland with RED Car Rental, visit https://www.redcar.is/.