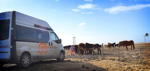 Upcoming Icelandic horse show Landsmot will be offering travellers and horse lovers a special camping experience in Iceland. CampEasy is recommending that Landsmot visitors rent a campervan, as the nearest hotels to the event are quickly becoming fully booked.
The 2014 edition of Landsmot will be held at the showground at Hella, in south Iceland. The programme is full and varied, and everyone should be able to find something of interest. There are various classes of competition ranging from children's classes, with riders 13 years old and younger, up to the A and B classes, where top riders and horses display all the different gaits of the Icelandic horse breed.
Top-level breeding horses (mares and stallions) will also be shown, and groups from breeding farms and the best 'tolt' competition horses in Iceland. Other entertainment is also available in the form of music, dancing, singing and mixing with an international crowd of horse enthusiasts.
Furthermore, Hella is located near some of Iceland's best natural landmarks, including geysers, volcanoes, waterfalls, national parks, caves, and lava fields.
CampEasy is a campervan rental provider in Iceland with first class campers and service. Camping in Iceland offers travellers the freedom of visiting the country's best sights, without the stress of booking hotel rooms or tours.
CampEasy offers five different campervans suitable for accommodating up to 4 people, and provides everything needed for a comfortable and enjoyable journey.
Landsmot will be taking place between 30th June and 6th July 2014.
For more information about Landsmot, visit www.landsmot.is/en/.
To book a campervan in Iceland, click here.