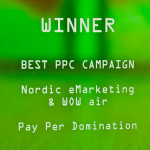 Nordic eMarketing was awarded the Grand Prix for the best PPC Campaign at the European Search Awards, which were held in Reykjavik, Iceland on Friday 28th March. The award recognizes the results of a pay-per-click campaign for Icelandic airline WOW air, which gave the airline online visibility across Europe.
"The campaign went great, and we managed to reach WOW air's key audiences in various markets across Europe, which ultimately resulted in an increase in revenue for the airline," says Haukur Jarl Kristjansson, head of PPC at Nordic eMarketing.
"It's important to put yourself in the position of a user and design ads that reach the right audience at any given time, taking into account culture and geography. NeM has developed a holistic methodology over the past decade. All of this along with our passion for what we do, as well as working with the great staff members at WOW air, such as Erla Bjorgheim, is a recipe for success and long-lasting results."
Reykjavik was chosen to host the third European Search Awards ceremony, which took place in Barcelona last year and in Amsterdam the year before that. "It's a great honour for an Icelandic company to receive such a prestigious award in its home country. This is indeed a turning point in the history of our company," said Hreggvidur Magnusson, CEO of Nordic eMarketing.
To win the Grand Prix for the best PPC Campaign, Nordic eMarketing's "Pay Per Domination" campaign for WOW air competed against the following agencies:
Performics France – Reboot SEA strategy with audience targeting
Performics UK & Aviva – Aviva Home Partnership
Periscopix & Oasis DE – 2500% Increase In YoY ROI With 89% Less PPC Spend
Periscopix & The Watch Hut – Shaping The Paid Search Landscape With RTB
Stickyeyes & Pure Collection – Pure Collection Biddable Media Campaign
In addition to this award, Nordic eMarketing was nominated in the following four categories:
Best Agency
Best Use of Search Travel & Leisure
Best Local Campaign
Best Use of Social Media in a Search Campaign
For more information about Nordic eMarketing, visit www.nordicemarketing.com.