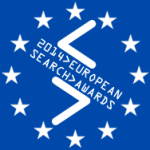 It is the last chance for Europe's top search and digital talent to enter the 2014 European Search Awards, with the deadline for submissions extended to 24th January 2014.
Now in its third year, the European Search Awards has already attracted hundreds of entries from the leading search and digital agencies and professionals throughout Europe.
Categories include Best Use of Search, Best Pan-European Campaign, Best Mobile Campaign and Best Agency. The awards, which are organised by Greater Manchester based events agency Don't Panic, are open to companies based worldwide who are delivering work in Europe.
The deadline was 17th January 2014 but has now been extended until 24th January 2014, and the shortlists will be published on 14th February. The judging panel includes:
·       Jose Truchado, Expedia
·       Danny Goodwin, Associate Editor of Search Engine Watch
·       Gianluca Fiorelli, Founder of LoveSEO
·       Kaspar Szymanski, SEO Consultant
·       Bas van den Beld, Founder, State of Digital
·       Bastian Grimm, Managing Partner, Grimm Digital
·       Christian Rudolf, Founder, Topdog
The winners will be announced at an awards ceremony in Reykjavik, Iceland, on Friday 28th March 2014.
Don't Panic launched the UK Search Awards in 2011 and the European Search Awards in 2012. This year saw the inaugural US Search Awards take place in Las Vegas.
The European Search Awards are delivered in partnership with headline sponsor Manual Link Building and in association with Reykjavik Internet Marketing Conference (RIMC) and SEMPO.
For more information about the European Search Awards, please visit www.europeansearchawards.com