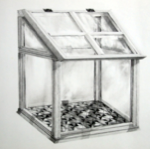 The opening of  "Drawings +", a new exhibition by Swedish artist Andreas Toriseva, will be taking place today at Kaffistofan in Reykjavik, Iceland.
In his new work, artist Andreas Toriseva offers the viewer a delicate touch where the steadiness of the hand meets the solemnity of the mind. Big drawings and small object come together in a show that speaks of life, eternity, transition and beauty in shades of grey.
The exhibition consists of drawings in photorealistic manners that, for example, show a tree and a piece of charcoal and two smaller sculptures. The constellation is about the subject of nature in a mix of romanticism, exploration and aestheticism, which together conjures up questions about representation, perspective and time.
Andreas Toriseva is a Swedish artist born 1988 in the middle south of Sweden in the city of Jönköping. He attended the preparatory art school Dômen in Göteborg 2008-2011 learning printing. He now resides in Reykjavik where he is concluding his BA degree in Fine Arts at the Art Academy after being on exchange in The Royal Academy in Den Haag, Netherlands for 6 six months at the first half of 2013.
His work revolves around man and nature and questions modern culture through its use of systems and constructions. The works takes on different shapes such as drawing, sculpture, photography and installation.
Toriseva has showed at a multitude of group exhibitions such as Ungdomens Vårsalong and Länssalong in Jönköping (2009, 2010), at Galleri Majnabbe in Gothenburg and NYLO in Reykjavík. As well as solo shows at Göteborgs konstförening  and Bengans, Göteborg and Kaffistofan, Reykjavik.