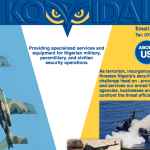 As terrorism, insurgency, and criminal activity threaten Nigeria's security agencies, Kovidal is providing equipment and services for Nigeria's armed forces, security agencies, businesses and individuals who need to confront the threat efficiently.
Kovidal's services for Military, Paramilitary, and Security Agencies include platforms, munitions and specialized systems; related training in operations and maintenance; and surveillance and counter surveillance solutions.
Using the company's experience of military and security operations, Kovidal can meet the military's defence/security procurement needs with complete discretion and at short notice.
Kovidal also helps to improve the security of High Net Worth Individuals and Corporate Bodies by offering innovative counter surveillance solutions, security management, training and consultancy.
For more information about Kovidal, visit http://www.kovidal.ng.