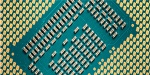 For business management aiming to expand an organisation into new IT markets, Intel is offering support for today's industrial decision makers looking to differentiate and grow their business.
Despite the differences, companies share a number of key challenges and goals. By delivering this solid foundation of connectivity, manageability and security, Intel is helping equip companies with the confidence to convert their system data into differentiating business values.
Expansion into new markets, geographies and competencies poses exciting new opportunities for today's industrial decision makers keen to move their organisations forward. Priding itself on being the industrial partner of choice, Intel delivers product innovation, the reliability of proven manufacturing expertise and ecosystem support to help you differentiate and grow your business.
Gaining the market advantage starts with understanding the market threats, as well as determining the software, design customisation and new services that will best benefit the company. Intel brings the ongoing product innovation, manufacturing expertise, and rich ecosystem relationships to help you confidently differentiate and thrive.
Today's industrial leaders now have access to a host of new and emerging technological innovations poised to transform how and with whom they do business. Informed by decades of technology leadership and a broad ecosystem, Intel is uniquely positioned to help you assess new opportunities from consolidation to machine to machine (M2M) to differentiate and grow your business.
To learn more about Intel's IT industrial solutions, click here.