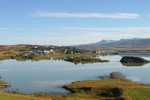 Icelandair, Iceland's leading airline, is offering short breaks to Iceland and the country's incredible East Fjords as part of a new package deal.
With this trip to Iceland's East Fjords, expect to visit the beautiful green belt of trees and woods of Egilstadir, home to the country's biggest forest Hallormsstadaskogur, and thousands of wild reindeer.
With Icelandair's package deal, visitors will spend 4-nights between Iceland's capital, Reykjavik, and the quaint town Egilstadir. During the first day, visitors will spend their first evening in Reykjavik at the newly renovated four-star Icelandair Hotel Reykjavik Natura, where guests can relax in the indoor geothermal pool and sauna located on the premises of the hotel.
The second and third night will be spent at the Icelandair Hotel Herad in Egilstadir, the capital of the East. Egilstadir offers plenty of enjoyable forest walks and trails.
After a morning flight to Egilstadir, guests will visit the charming village of Eskifjordur, located by the seaside in the middle of the Eastern fjords. There, visitors will have a chance to visit Randulffssjohus, a seafarer's lodge built in 1890 where the atmosphere of the old days is still preserved.
Finally, on the last day of the break, visitors will have a chance to spend it in Reykjavik, a cosmopolitan city filled with exciting nightlife, world-class restaurants, cosy cafés, and local shopping boutiques.
For more information regarding short breaks to Iceland, visit www.icelandair.co.uk.