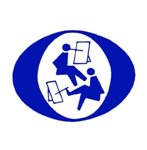 Ruth Christiansen, Ann Lund and Panajiota Intzilaki, members of Mund-og Fodmalende Kunstneres (MFK), the Danish arm of the Association of Mouth and Foot Painting Artists (AMFPA), together with their 800 fellow artists located across 75 countries worldwide, support each other through their paintings.
What' s special about this organisation is that it was founded in 1957 with the objective to provide income for its disabled artist members, all of whom are unable to use their hands because of birth defects, injury or illness.
Eric Stegmann, the founder of AMFPA, wanted to create an organisation which would be governed entirely by its members. It is a democratic co-operative with all its members having a voice in how it is run. The AMFPA is a self-help organisation selling reproductions of the artists' work in the form cards, calendars, books, wrapping paper etc. The income goes into a central fund to pay the artists grants or full salaries – enabling member artists to live independently from the state.
Ruth Christensen, member of the international AMFPA board of directors, commented, "Since I joined the Danish branch of the AMFPA in 1982, I have had many incredible experiences from having one of my paintings chosen as the Christmas stamp by the Royal Danish Post to presenting, Sophie, the Countess of Wessex GCVO, who is married to Queen Elizabeth's youngest son, Edward, with the MFPA's book 'Art for Life' at our UK exhibition. "
The Association of Mouth and Foot Painting Artists is a wholly owned, international self-help organisation of seriously disabled artists who take pride in earning their own living by painting with a paint brush held in their mouth or between their toes. A panel of senior AMFPA artists select from the collection of painted images created by Danish artists and their fellow artists from around the world. These chosen images are then reproduced and sold to the general public as cards and calendars, benefitting the AMFPA's more than 800 artists in over 75 countries worldwide.
Press Contact:
Randi Viereck
Email: mail@mfk.dk
Phone: +45 4665 4975
Mobile: +45 4095 4975