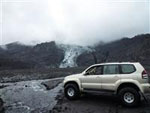 Leading car hire company in Iceland, Glacier Car Rental has recently seen an impressive summer season, and expects the upcoming months to be even busier. In fact, Glacier Car Rental has expanded its car fleet in order to meet the current demands from its customers.
In June, Glacier Car Rental saw a pleasant visit from renowned director Henry Jun Wah Lee. Henry was in Iceland shooting  for a music video and asked the car hire company  to provide him with a fully equipped 4×4 capable of taking on the Icelandic mountain roads. After 12 days of travelling throughout the country and getting into all sorts of adventures, Henry returned with some fantastic shots, a big smile, and a dirty car.
In further news, the next issue of Icelandic Times, which is published all over Europe, will feature an article about Glacier Car Rental. The article will include pictures of the company's car fleet, and an interview where the company's business and operations are discussed. Additionally, the Icelandic Times website will also feature videos of the company's Jeeps in action, as well as interviews.
In addition, Glacier Car Rental would like to remind its travellers to put safety first. On safetravel.is visitors can find tips on how to reduce chances of accidents and other essential safety information.
First founded in 2009, Glacier Car Rental is owned by two brothers and staffed with family members. Since its inception, Glacier Car Rental has grown in popularity due to its proficiency in providing quality cars and an unbeatable service to those travelling in Iceland.
To find about more about Glacier Car Rental, and to hire a car in Iceland, visit http://www.glaciercarrental.is/.