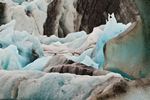 The safety of tourists visiting Iceland is to be improved with a new smartphone travel application (app), allowing visitors to call for help if a mishap or accident was to occur.
The application called 112 Iceland gives travellers the opportunity to leave a trail of 'bread crumbs', which can make a huge difference if fears arise about the fate of travellers and a search takes place. The application runs using a standard mobile phone connection, which covers roughly 99 percent of the country.
Every year, the number of tourists visiting Iceland has been on the increase, and according to the Icelandic Tourist Board, the majority visit Iceland for its nature. It is well known that Icelandic nature can be harsh, people can suddenly find themselves in unexpected situations and plans can fail. When this happens, it is necessary to call for help quickly, and here Iceland 112 comes in handy.
Leading acquiring service provider Valitor developed the program in partnership with the software company, Stokk. It is intended to improve the safety of tourists visiting Iceland and strengthen the existing safety net. Neydarlínan (Emergency Hotline), ICE-SAR and the Civil Protection Department were also involved with this project. Valitor has provided its partners with the new program for free and thus supports their important work in safety and preventative measures.
It should be clearly noted that this software is not designed to replace other safety equipment, such as emergency locator beacons or radiotelephones. However, the program is a useful addition that benefits the huge number of people who use smartphones and strengthens the existing safety net.
In addition, 112 Iceland can also be used abroad, although communication is always carried out through 112 in Iceland. In such cases, the Emergency Hotline will contact the emergency services in the relevant country to assist the individual concerned.
112 can now be downloaded through the iPhone App Store or Google Play Store, for those with Android phones, as well as at www.safetravel.is.