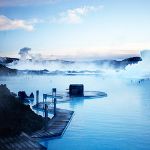 Iceland has been announced as a leading destination for conferences, conventions, and business incentives due to the increasing number of companies around the globe choosing Iceland to host the aforementioned.
According to the Iceland Conventions & Incentives Bureau, Iceland holds an excellent reputation when it comes to hosting conferences and meetings. As a result of its geographical location, midway between North America and Europe, Iceland has soaked up influences from both sides. Also, being a small island nation, Icelanders have actively forged ties with other nations.
Additionaly, the country holds an abundence of tours perfect for incentive and team-building activities. With an array of activities such as skidooing, white-water rafting, horse riding, hiking, glacier tours, and whale-watching, there's something for everyone.
Reykjavík, Iceland's capital city, holds a range of venues and halls suitable for conferences and meetings, including the renowned Harpa Concert and Conference Centre; Hilton Reykjavík Nordica hotel; and the Blue Lagoon. Other venues across Iceland include Hotel Hamar in West Iceland; Hotel Herad in the East; and Hotel Klaustur in the South.
Iceland's leading airline Icelandair offers flights to Iceland from nine convenient destinations across Scandinavia, with expertise in catering for business class passengers and group bookings. Travelling to Iceland is quick and easy from all of its Scandinavian gateways.
For further information regarding flights to Iceland, visit www.icelandair.com.