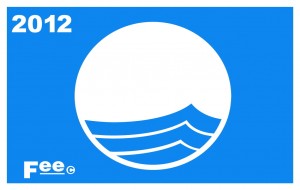 Spanish beaches have been awarded 638 "blue flags" (540 beaches and 98 marinas) in 2012, keeping the lead in the 51 territories of the 46 participating states of the northern hemisphere, and recording their best result ever by adding an additional 35 flags to the 603 awarded in 2011.
Blue flags are one of the most important parameters concerning the quality of the sea and sand. Each year the Foundation for Environmental Education, assigns the fateful blue flags.
"This result is unparalleled and coincides with the 25th anniversary of the creation of this environmental tourism and quality award: one in six flags of all the 3,774 granted in the region will fly in Spain" said the president of the Association of Environmental and Consumer Education (FEE ADEAC) responsible for the distinctions, Joseph R. Sanchez.
Eight of Spain's 17 autonomous communities have been awarded blue flags: Galicia (143), Valencia (120), Catalonia (111), Andalucia (93), Baleares (68), Canary Islands (45), Murcia (28) and Asturias (20).
Specifically, Galicia accounts for more than 26% of blue flags awarded to Spanish beaches – 540 – making it the most distinctive European region, thanks to "the awakening of consciousness in the aftermath of the 'Prestige'" according Sanchez.
"The blue flag is a protection for tourists," says the secretary of state for tourism Isabel Borrego, "because it shows that we care about the accessibility, the quality of the water and sand, safety, cleanliness and of course the comfort of the beaches and  the marinas."
Source : Travel Inside Spain