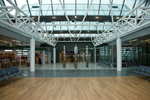 Keflavik International Airport in Iceland prides itself in offering a comfortable and relaxing travel experience for all of its passengers, as well as providing modern facilities designed first and foremost with the traveller in mind.
The airport's Leifur Eiríksson terminal is furnished with tasteful and pleasant décor, providing passengers with a stress-free environment to rest before flights.
For those looking for a bit of retail therapy, KEF is well-known for its huge range of duty free stores, with a total of eighteen retailers in departures, selling a range of items from electrical goods to high-street clothing, all at reduced prices.
Keflavík International Airport has been named as one of only a few airports throughout Europe to sell tax-free products to passengers upon arrival, so if you forget to pick up those last minute bargains, there's still time!
KEF's duty free zone also specialises in selling and promoting Icelandic products and design. Passengers can pickup a selection of traditional Icelandic delicacies, as well as handmade wool jumpers, scarves, and mittens. The airport also features a variety of art and sculptures inside and outside of the terminal building.
In addition, to help with a stress free travel experience, the airport offers short waiting times at check-in, passport control, and security checks.
To find out more about Keflavik International Airport, visit www.kefairport.is/english.
Additionally, the airport in Iceland released the January edition of its trade magazine, Airmail, which features up-to-date information on its services. Click on the link to view it online: www.kefairport.com/airmail