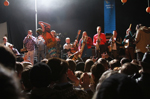 The annual Iceland music festival held in the country's Westfjords, Aldrei For Eg Sudur (Never Been South), is to be broadcast live via the Inspired by Iceland website this weekend.
The popular music festival, taking place 6th and 7th April, is held in the quaint and colourful town Isafjordur, where music lovers come together to enjoy some of the country's best live music.
Inspired by Iceland will be streaming the festival live via its website, which was a great success when it was broadcast live for the 2011 festival.
Aldrei For Eg Sudur first began as an idea between Icelandic musician Mugison and his father, both of them Isafjordur natives. They were both keen to showcase the town's vibrant music scene, and wanted to have as much fun as possible while doing it.
The festival has gone from strength to strength since beginning in 2004, with festival-goers praising the relaxed atmosphere, unique location and the consistently strong festival line-up.
Bands scheduled to play at this year's festival include Sykur, Muck, Retro Stefson, Skalmold, Mugison, Klysja, Dukkulísur, Pollaponk, Gudrid Hansdottir, Jon Jonsson, Gang Related, and many more.
To stream the Aldrei For Eg Sudur music festival live, visit http://www.inspiredbyiceland.com/music/music-aldrei-for-eg-sudur this weekend.
Photo: Aníta Björk – www.aldrei.is