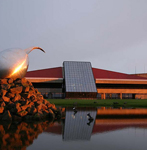 Iceland's main international airport, Keflavik International Airport (KEF), is only a forty-minute drive away from the country's capital region, allowing for a short airport transfer time to and from Reykjavik.
Following arrival at KEF, guests can easily visit the city and explore everything that it has to offer. In downtown Reykjavík, visitors can check out the electrifying bars and restaurants, as well as the various live music venues dotted around town.
The airport also provides charter bus services to Reykjavík via the Reykjavík Excursion Flybus located directly outside the airport. These buses depart 35-40 minutes after the arrival of each flight and head to the BSÍ Bus Terminal, as well as to major hotels, hostels, and Reykjavík's domestic airport.
For passengers with short stopovers, there are also various day trips in the surrounding area, allowing passengers to grab a quick taste of some of the wonderful sights Iceland has to offer. For example, it is just a quick hop over to the world famous Blue Lagoon spa, allowing travelers ample time to relax in the calming geothermal waters before catching a connecting flight.
For further information about Keflavik International Airport, visit www.kefairport.is/English/.
In addition, Keflavik International Airport released the January edition of its trade magazine, Airmail, which features up-to-date information on its services. Click on the link to view it online: www.kefairport.com/airmail