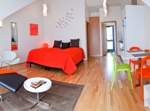 Reykjavik4you, an apartment hotel complex in Iceland's capital, Reykjavik, has been preparing for the busy summer period, which is fast approaching.
Reykjavik4you offers a number of apartment hotels located right in the heart of Reykjavik. All of the company's apartments come fully furnished and include self catering kitchen facilities. In addition, the company's hotel apartments are all located within walking distance of Laugavegur and Skolavordustigur, Reykjavik's main shopping streets, which accommodate a variety of quaint fashion boutiques, cosy coffee shops and top quality restaurants.
"This is one of the nicest places I have ever stayed in and is very well located. The owners are lovely and very friendly; you can tell that they have worked hard to create an apartment that makes you feel like you are at home. The apartment is fully equipped with pretty much everything you could need…All in all this apartment is an excellent choice it offers a wonderful accommodation and at a very cheap rate," commented one of Reykjavik4you's satisfied customers on the company's online forum.
Furthermore, staff members are more than happy to help organise day tours and trips. Tours can be booked at the reception desk and once booked, visitors will be picked up directly at the apartment and returned there at the end of the day.
To learn more about Reykjavik4you's apartment hotels, visit www.reykjavik4you.com.