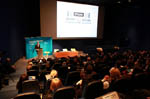 The 2012 Reykjavik Internet Marketing Conference (RIMC) is set to take place this Friday at the Hilton Nordica Hotel in Iceland's capital city, Reykjavik.
The popular annual Internet communication and marketing event will be focusing on two tracks, mixing various topics, best practice tips, and Social Media strategies over one day.
Amongst the speakers taking part at RIMC 2012 include: Eli Pariser, The Filter Bubble; Bill Hunt, Back Azimuth; Ben Chapman, BBC; Charles Dowd, Facebook; Brent D. Payne, Tribune/BaldSEO; Motoko Hunt, Adobe; Phil Greenwood, Microsoft; and Matt Neal, Bright Sparx.
For the first time, the Internet marketing conference will also be holding the miscellaneous 'Dark Sessions', featuring Mikkel DeMib, Peter Van Der Graaf and Fantomaster. This session will be focusing on the 'darker side' of Internet marketing.
The Reykjavik Internet Marketing Conference (RIMC) is an essential networking tool for marketing and advertising people, web editors, sales and marketing managers, as well as directors of small and large businesses. The conference is also ideal for anyone who is interested in business on the Internet.
To find out more about the Reykjavik Internet Marketing Conference 2012, visit www.rimc.is/en.
For up-to-date RIMC announcements, follow the conference via Twitter.
Image: flickr.com/demib/