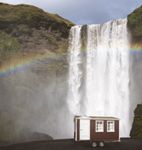 A new campaign set up by the tourism initiative Inspired by Iceland has begun in which food enthusiasts are being invited to Iceland to experience Icelandic cuisine and local delicacies.
The new campaign will be launched officially on 7th March with a unique gourmet adventure called ELDHÚS – Iceland's little house of food. ELDHÚS, which is Icelandic for kitchen and literally translates to 'Fire House', is a cosy, intimate cabin complete with a turf roof that can seat six diners around one single table.
The cabin, which has been designed to encompass traditional Icelandic charm, will be travelling across the most remote and extreme areas of Iceland, seeking out the best Icelandic cuisine. The 12-day culinary journey will start in Reykjavik and continue through black sand beaches and snow-capped glaciers, celebrating Iceland's finest foods along the way.
Ex-Noma chef Tom Sellers will be one of the Head Chefs and will be accompanied by his maître-d, Heimir, as well as by farmers and Icelanders from all over the country that will also help prepare the food.
Chef Tom Sellers explained, "I am exceedingly intrigued by Icelandic cooking. Traditional delicacies are clearly still important to their food culture but Icelandic food has taken a modern turn. They have access to some of the freshest ingredients in the world and the cooking is simply outstanding."
The tourism initiative's latest campaign will also encourage Icelanders to open their kitchens to gourmet food travellers, allowing them to experience the real taste of Iceland. Travellers interested in the venture will be able to scroll invitations sent through the Inspired by Iceland website.
Contact eldhus@inspiredbyiceland.com to find out more about Inspired by Iceland's culinary adventure or visit www.inspiredbyiceland.com.