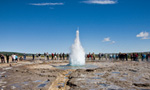 Reykjavik Excursions, a leading Iceland tour provider, is offering free wireless Internet access during all of its excursions in Iceland.
The Iceland tour provider offers free wireless Internet access on every bus in its fleet during all excursions in Iceland, as well as the Flybus airport shuttle, connecting travellers from Keflavik International Airport to Reykjavik and vice versa.
This free Internet connection gives passengers the opportunity to interact with their friends and family whilst travelling to some of Iceland's greatest sights. Furthermore, this also allows passengers to upload photos online seconds after visiting these sights – sharing their unique experiences over the web.
Reykjavik Excursions offers various spectacular day trips in Iceland, including city breaks to the Blue Lagoon geothermal spa, tours to the popular Golden Circle tourist route, and spectacular Northern Lights tours.
In addition, tour participants will get to see the magnificent Gullfoss waterfall and then continue on to the rift valley of Thingvellir National Park, where the first Icelandic parliament, Althing, was established.
To learn more about the excursions offered at Reykjavik Excursions, visit www.re.is.