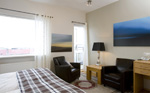 Users of the world's largest travel website TripAdvisor have recommended Hotel Odinsve as an ideal place to stay in downtown Reykjavik, awarding the hotel with a rating of 4 out of 5.
TripAdvisor users have recommended the hotel in Reykjavik due to its perfect location near the main shopping street of Reykjavik, where over 100 bars, restaurants, and cafes are situated alongside numerous boutiques and retailers.The hotel was also commended for its spacious rooms, panoramic views and its helpful staff.
One guest commented, "The three of us stayed for five nights in two double deluxe rooms. The rooms, which were next to each other on the top floor, were spacious, with large balconies, comfortable seating areas and lovely panoramic views. They were also warm and quiet."
She followed by saying, "All of the main sights within central Reykjavik are within easy walking distance. The rooms had flat screen TVs with a wide range of channels, and tea and coffee making facilities, which were replenished daily. The usual toiletries were also provided. The rooms were cleaned daily and were spotless. The reception staff were pleasant; check in and check out were straight forward, and they were happy to assist with the booking of tours and transfers."
Hotel Odinsve provides a range of amenities for its guests, including a restaurant, a café, and a bar lounge, all located on-site – it also boasts free wireless Internet for its customers.
For further information regarding the hotel in Reykjavik and its services, visit www.hotelodinsve.is.