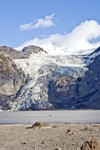 SuperJeep.is, a leading tour provider in Iceland, is now offering day trips to the magnificent Eyjafjallajokull glacier and the stunningly beautiful area of Thorsmork. On this tour, SuperJeep's experienced drivers provide participants with a unique all-day guided tour through some of the Iceland's most spectacular scenery.
The Eyjafjallajokull and Thorsmork tour takes participants along the south coast of Iceland to the beautiful waterfall of Seljalandsfoss. Here, visitors can walk behind the waterfall and get a unique perspective of the water plummeting into the vast plunge pool at its base.
Following this, the tour continues on to Thorsmork, a wide valley named after Thor, the Viking God of Thunder. The tour crosses rivers and streams, passes caves and boulders, and then stops at a glacial lagoon, where visitors can hike to the edge of the impressive glacier as it spills down from the summit of the Eyjafjallajokull volcano. In addition, the tour also allows time for participants to explore the surrounding forested area and experience some magnificent panoramic views. As one of Iceland's most popular hiking areas, visitors cannot fail to be in awe of its natural beauty and captivated by its charm.
Furthermore, the company offers other guided tours to some of Iceland's most impressive sites, including the Golden Circle; Gullfoss, Geysir, and Thingvellir; Landmannalaugar, Snaefellsnes Peninsula, Mount Hekla, Jokulsarlon, and more.
Moreover, SuperJeep's Land Rover Defender jeeps are well equipped for the Icelandic terrain so that the knowledgeable tour guides can take visitors to destinations in Iceland that coaches just cannot reach.
To learn more about other tours in Iceland offered by SuperJeep, check out www.superjeep.is.