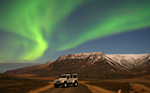 Sightings of the Northern Lights in Iceland are extremely frequent as part of a Northern Lights tour organised by tour provider superjeep.is.
Superjeep.is has claimed that its customers are very likely to view the Northern Lights via its tour, with up to a frequency rate of 80 percent. The company is so confident that its customers will get to experience this natural phenomenon that it offers the same trip for free if it turns out to be a 'no show'.
One customer from the UK said, "What an amazing experience! Superjeep.is has got it all worked out!! We saw the Northern Lights in the best possible way…thank you for an amazing time; we wouldn't have done it any other way! It was amazing and very exciting!"
A previous customer from Bulgaria also stated, "The Northern Lights tour is one of a kind and undoubtedly the greatest tour I've even been on."
Superjeep.is is an Iceland excursion provider specialising in combining the exploration of Iceland's rough terrain with thrilling natural wonders. The company uses Land Rover Defender Jeeps for its tours, all modified with the necessary equipment to take on the challenge of Iceland's highlands all year round.
To find out more about the Northern Lights tour with Superjeep.is, visit http://superjeep.is/Excursions.aspx?id=10.