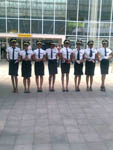 As part of the launch of Text2Fly our charming customer service representatives, affectionately known as the "Fly Girls", spent two weeks at Murtala Mohammed Airport (MMA2) in Lagos talking to passengers about the benefits of Text2Fly, the new mobile service that sends Nigerian domestic flight schedules to your mobile phone via SMS text messaging.
The event was an unqualified success, with many passengers expressing surprise at how fast Text2Fly responded to their flight schedule queries and just how easy it is to use. Speaking to our Fly Girls, Mr Olanrewaju, a businessman who lives in Abuja said, "This is so amazing, I travel between Lagos and Abuja almost weekly so I will find Text2Fly indispensable for checking flight schedules. For just N50 I can access any domestic Nigerian flight schedule. You guys are very, very innovative. I commend your brilliant idea. Let's make Nigeria great."
Launched in November 2010, Text2Fly is a mobile service that lets you get any Nigerian flight schedule on your mobile phone by sending the Text2Fly number (33057) a simple SMS text message that is similar to this: "From Lagos to Abuja on Monday at 8am". All Domestic Nigerian airlines like Aero Contractors, Arik Air, Air Nigeria, IRS Airlines, Dana, Overland, Associated and Chanchangi are covered.
Timi Agama, the Founder and CEO of Text2Fly said, "We knew Text2Fly would be useful, but what has been surprising is just how excited people are when they try it for the first time."
The Text2Fly approach to delivering an application by SMS is patented and brand new. Text2Fly has one simple aim – to make air travel in Nigeria much less of a hassle.
Text2Fly is a product of Anthill Digital Limited, a Nigerian provider of web-based solutions.
If you'd like to find out more please visit text2fly.com.ng.