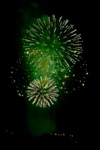 Inspired by Iceland, the Iceland tourism campaign, will be welcoming in the New Year in style and getting everyone involved by streaming the capital's New Year's Eve celebrations live online.
Reykjavik's New Year's Eve celebrations and spectacular firework display attracts thousands of tourists each year. This year, for those who are want to join in the celebrations but can't make it, Inspired by Iceland is streaming the event live through its website via a webcam over looking Reykjavik's skyline.
As well as the festive celebrations, Inspired by Iceland is looking forward to a promising New Year after both Iceland and Reykjavik topped the polls for popular 2012 travel destinations.
Iceland finished top of the Lonely Planet's annual "Best in Travel" list as the readers' choice for the best destination in the world and Reykjavik was chosen as the most exciting city to visit in 2012. Also, Iceland topped National Geographic Traveller Magazine's list of the world's best travel destinations for 2012.
Furthermore, the campaign's latest initiative, which was kick started by Olafur Ragnar Grimsson, the President of Iceland, has seen great success and will continue into 2012. The campaign is aimed at Icelanders opening their doors to visiting tourists in order to offer an exclusive glimpse at the Icelandic way of life. Numerous invitations have been sent out to the world online through the Inspired website so that people can plan their trip before travelling to the country.
Visit www.inspiredbyiceland.com on 31st December to view New Year's Eve in Iceland and join in the celebrations.
Photo: Oli Kristinn – http://flickr.com/olafur