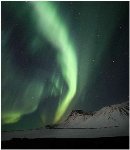 If you want to experience the unearthly glow of the Aurora Borealis this winter, Icelandair's Northern Lights City Break package holiday in Iceland is an ideal way to see the natural phenomenon in all its glory.
According to Nasa, this winter will see the best display of Northern Lights for 50 years, due to the pinnacle of the Solar Maximum – which last peaked in 2000. Nasa predicts that the next one, in 2012, will be the greatest since 1958.
With that in mind, Icelandair's Northern Lights offer is the perfect way to catch the natural light show this winter. In addition, with a short flight time from the UK and affordable prices, the package deal proves ideal for a weekend city break, romantic getaway or family holiday.
Included in the package are flights from London, Manchester or Glasgow, three nights accommodation in downtown Reykjavik (extra nights available), and an evening coach trip with Reykjavik Excursions to a location most likely to see the Northern Lights.
Furthermore, Icelandair allows you to customise your holiday with the "add-ons" option, which includes numerous possibilities such as snowmobiling on glaciers, relaxing in the geothermal Blue Lagoon, or the famous Golden Circle tour, plus much more.
For further information about Icelandair's Northern Lights City Break in Iceland, visit www.icelandair.co.uk.