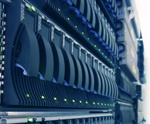 The renewable energy powered sustainable data center at Asbru Enterprise Park in Iceland, Verne Global, will later this month receive a modular data center facility from Colt Data Center Services.
The modules will be reassembled on the Verne Global campus upon arrival, making it the first wholesale data center space in Iceland, and also the world's first zero-emission data center powered by dual-sourced renewable energy.
"This will be one of the biggest logistical challenges in the data center industry, with 37 modules being delivered in total," explained Bernard Geoghegan, Executive Vice President of Colt Data Center Services.
The data center's location has been strategically placed so that it will be the first in the world to use 100% dual sourced renewable energy sources – a mixture of geothermal and hydro-electric power. In addition to this, the cooling system has been optimised to suit Iceland's climate, allowing for free cooling 365 days a year.
Geoghegan added, "By the end of this year, Verne Global will be open for business with a prime quality, flexible data center in a shorter time than a traditional build would allow."
In addition, Verne Global last week announced that it has signed its first contract – a joint agreement with the U.S. based company Datapipe – to deliver carbon neutral managed IT solutions.
For further information about the location of the green data center, visit http://asbru.is/english.