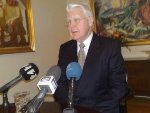 Yesterday, Olafur Ragnar Grimsson, the President of Iceland, initiated a new tourism campaign as part of the ongoing Inspired by Iceland campaign. Grimsson made a speech in which he openly invited tourists into his own home for pancakes, whipped cream and rhubarb jam and encouraged other Icelandic citizens to do the same.
The aim of the campaign is to allow visitors to experience the real Iceland. Many citizens have already volunteered to open their doors to welcome visitors with open arms and the Icelandic Government expects many more to get involved.
Other officials participating in the campaign include the Mayor of Reykjavik and the Minister for Tourism, Katrin Juliusdottir, who explained:
"We want visitors to our country to become Icelanders, to 'be Icelandic'. The ash cloud caused by the Eyjafjallajokull eruption last year made us think really hard about what coming to Iceland meant. We realised it is about the passion that our citizens have for our country and that they want to tell the world how beautiful it is and what an amazing experience it can be. Those thinking of visiting Iceland and wanting a real adventure will love what our people have to offer as they share their lives with them."
Icelandic citizens will be able to send invitations to the world through the Inspired by Iceland website. Visitors will then be able to browse the invitations and plan their adventures in Iceland.
For further information about the Inspired by Iceland tourism campaign, and to see the President's speech in full, visit www.inspiredbyiceland.com.