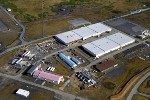 The Keilir Aviation Academy, located at Asbru Enterprise Park near Keflavik in Iceland, has organised an aviation conference entitled Airports and Airlines Winter Operations, set to take place on October 10th 2011.
Aviation experts from all over the world will be attending the conference in the Andrews Theater at Asbru in order to discuss lessons learnt from airport and airline operations in Europe throughout the winters of 2009 and 2010.
The conference will explore how technology, rules, regulations, airports equipment and personal training must be improved before the next winter snowfalls and storms in Europe. The effects of "extreme weather conditions" on airport and airlines operations will also be addressed.
Aviation experts attending the event come from civil aviation authorities in Europe, Russia and the U.S., the European Commission, OECD, EASA, FAA, AEA, ACI, ICAO, IATA, EUROCONTROL, airlines, airports and air navigation service providers, meteorological offices, as well as personnel from research organisations directly involved in supporting the aviation business and international and regional organisations.
The conference will address the following questions; What has been learnt? What are the effects of winter snowfalls on airports and airplanes and can they been reduced? What technology is available for snow removal of runways, aircraft de-icing, etc.? What steps are to be taken by airports to minimise the threats that winter snow falls and storms poses to aviation?
Keilir Aviation Academy has organised the conference in cooperation with Air Transport News, AEA, ACI, SITA, Icelandair and Kadeco.
Additional information about Asbru Enterprise Park can be found at http://asbru.is/english.