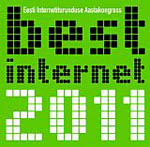 SEMPO board member and Nordic eMarketing Founder, Kristjan Mar Hauksson will be speaking at the Best Internet 2011 Internet Marketing event, located at the Tallinn University of Technology, Tallinn, Estonia.
The event, taking place 28th – 29th September 2011, is one of the most important annual events within the growing field of best Internet marketing practices. This year's event is set to be bigger than the previous two events with more speakers and topics – the Best Internet Plan 2011 provides a perfect overview of the developments within Internet marketing in Estonia and across the world.
During his session, Kristjan Mar will be discussing export marketing on the Internet for small and medium-sized enterprises in the Nordic countries, as well as providing some successful case studies.
Kristjan Mar Hauksson is the Founder and Director of Search & Online Communications at Nordic eMarketing. The company specialises in multilingual online communications, organic search engine optimisation and marketing through several verticals such as tourism, finance, government and pharmaceuticals. Nordic eMarketing also assists companies to gain international visibility online and to use the Internet as a communication channel, as well as providing consultation in web content management systems and analytics solutions.
The 2011 Best Internet event is filled with numerous sessions split into two fields, e-Commerce or Internet Marketing. Other speakers this year include Georgi Viies, Solaris; Enn Lamp, Estonian Air; Jaan Naaber, Sportland; Michael Toedman, Econsultancy.
To find out more about the Best Internet 2011 event, Estonia, visit http://est.best-marketing.com/?lang=est&show=news&id=1750.
For further information regarding Nordic eMarketing and Kristjan Mar Hauksson visit, www.nordicemarketing.com.