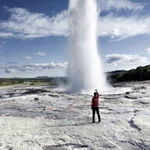 Icelandair, Iceland's flagship airline, is now offering a package holiday in Iceland that includes a Golden Circle tour and a trip to the newly opened Fontana Geothermal Steambaths in Laugarvatn. With prices starting as low as £349 from Manchester, Glasgow, and London, this is ideal for a quick, budget getaway filled with adventure and relaxation.
Icelandair's Golden Circle and Fontana Geothermal Steambaths package deal provides travellers with return flights (Economy Class), three nights accommodation at the Hilton Reykjavik Nordica or Natura Hotel, a Golden Circle tour and admission to Fontana Spa.
The tour takes visitors to the magnificent waterfall, Gullfoss and the world renowned geothermal area of Geysir. It also stops off at Thingvellir National Park, the geologic rift between the Eurasian and North American tectonic plates. Additionally, on the way, there is a stop at the Fontana Geothermal Steambaths.
Fontana is composed of a series of interconnected baths and steam rooms, specially designed to create a unique spa experience. Grates in the floor of the steam rooms allow guests to see the natural hot spring as it flows under the rooms straight from the ground, creating a natural experience that is not to be missed.
The full day tour is booked on the morning after arrival, allowing plenty of free time to explore Iceland's capital and its surroundings.
The package deal is available from Icelandair's three UK gateways; Glasgow, Manchester, and London Heathrow. The travel period is from September to November and must be booked before August 31st.
Further information about the Golden Circle and Fontana Geothermal Steambaths package deal can be found at www.icelandair.co.uk.