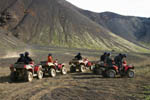 Leading travel provider, Nordic Travel is offering ATV tours for adventure seekers to experience the rugged terrain of Iceland on a Yamaha Grizzly 700cc "super sized" (2008 model) ATV quad bike.
Nordic Travel offers ATV tours centred near Iceland's capital city, Reykjavik, in an area perfect for biking because of its combination of challenging terrain and easy, safer routes.
Upon arrival at the Nordic Travel headquarters, visitors are provided with protective gear and garments, while a guide goes over safety rules and gives instructions on handling the bikes.
Nordic Travel also specialises in offering individual travel, providing arrangements for visitors with either a rented car or their own, and in different classes of accommodation (good hotels, moderate hotels or guesthouses). Nordic Travel also provides comprehensive route descriptions and hotel descriptions for each separate booking.
Additional, Nordic Travel arranges group tours and other kinds of travel in Iceland, including conferences, incentive tours and more.
For more information regarding ATV tours in Iceland and adventure tours, visit www.iceland-nordictravel.com.