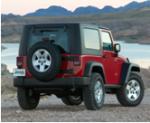 Iceland's leading car rental company, Reykjavik Rent a Car is offering cheap car rental in Iceland with various discounts on all of its vehicles depending on the duration of rental.
Reykjavik Rent a Car Customers looking to rent a vehicle with the company for over seven days are treated to a 10 percent discount, over fourteen days a 15 percent discount and most generously a 20 percent discount for anyone wishing to rent for three weeks or more.
The Icelandic car company offers top makes such as Jeep, Suzuki and Ford; all available with automatic transmission and considerable engine power, which is needed in the remote areas of Iceland. These safe vehicles are easy to drive and can come fully equipped with satellite navigation, mobile phones and child seats on request.
In addition to this, Reykjavik Rent a Car is renowned for its excellent, reliable service and customer satisfaction. The company often receives praise from past customers who recommend the service to other travel-goers.
For example, a satisfied Reykjavik Rent a Car customer commented on TripAdvisor.com, "A couple of days before the original rental period was to end, I decided that we needed the car for an extra day, and accordingly asked Reykjavík Rent a Car to extend the contract by a day. The contract was extended and Reykjavík Rent a Car gave me the extra day FREE. That is truly outstanding customer service….. I have every intention of booking Reykjavík Rent a Car for our visit again to Iceland next year."
Moreover, the car rental company can also deliver the car to you at Keflavik International Airport, any hotel in Reykjavik, any address in the Greater Reykjavik area or BSI – the main bus terminal in downtown Reykjavik.
For more information about car rental in Iceland and to make a booking, visit www.reykjavikrentacar.is.