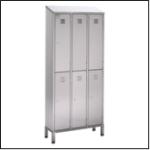 The UK's leading manufacturer of stainless steel hygienic equipment and furniture for clean rooms, Teknomek is now offering a wide range of changing room lockers manufactured from 304 grade stainless steel, designed for changing areas in hygienic or clean room environments.
The stainless steel lockers are available up to four nests wide or ten tiers per nest. There are many different options to choose from, all with locking doors (key or combination); non-standard configurations and specifications are also available.
The stainless steel manufacturer uses advanced 3D systems and Lean Manufacturing techniques to design and build all of their products. This means that non standard configurations of all Teknomek products can be designed and built to customer's exact requirements.
Teknomek are also able to provide CAD generated models of a hygienic area. This enables the client to really understand how to utilise space with maximum efficiency. Teknomek can then move and change units until the customer is satisfied that they have the most effective arrangement possible. The company then manufactures the stainless steel units to the exact specification agreed with the client.
For more information about the stainless steel lockers and to request a full product catalogue, visit www.teknomek.co.uk, or see contact details below:
Tel: +44 (0)1603 788833
Email: mail@teknomek.co.uk
About Teknomek
Teknomek is Europe's leading manufacturer of stainless steel furniture and equipment. The company provides high quality and cost-effective stainless steel solutions to industry hygiene requirements for all sectors such as catering, food processing, pharmaceutical and veterinary.