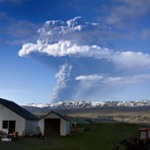 Iceland is a volcanic island and its modern infrastructure and emergency services have been designed to cope with volcanic eruptions. Despite the regular earthquakes and volcanoes in Iceland, people almost never get hurt and travel delays are usually minimal.
Icelandic volcanoes have erupted over 125 times since 874 AD. Without the volcanoes Iceland would lack most of the distinctive geographical features that make it a world tourism magnet. Most of the eruptions have caused little disruption, and some others have caused more disruption overseas than in Iceland itself.
Last year's eruption at Eyjafjallajokull caused flight cancellations and delays which were felt around the world; but ironically, due to wind direction, Iceland was less affected than other parts of Northern Europe.
Indeed, Iceland's travel and communications infrastructure are designed to deal with eruptions and Icelandair is consistently ranked as one of Europe's most punctual airlines – despite the volcanoes.
The Grimsvotn eruption of May 2011 has thrown up a huge ash cloud, even bigger than last year; but impact on flights is proving much lower. The reasons for this are that the ash particles are heavier this time, meaning the ash is unlikely to spread as far; and that the wind is not blowing the ash in the same directions as last time.
Grimsvotn volcano in southeast Iceland is known for its short, sharp eruptions which sometimes last only a few days.
Icelandair has been experiencing some delays due to the current volcano in Iceland; but passengers are being kept informed and flights have been leaving. While the airline acknowledges that delays are possible, it is heeding the advice of scientists saying that the current eruption will not cause large-scale travel disruption.
The message from Icelandair at this time is that bookings will be honoured and that passengers are advised not to cancel their travel plans. Iceland is still safe to visit and any delays to flights are likely to last less than a day. The airline also notes that the eruption could stop with little warning.
The last Grimsvotn eruption in 2004 lasted just one week and the intensity of the current volcanic activity has already decreased significantly. Some areas of southeast Iceland are covered in ash and temporarily off-limits; but life in the vast majority of Iceland is continuing as normal.
For more information on Iceland flights, including live flight statuses, visit
www.icelandair.co.uk.
(Photo: Sigurlaug Linnet // mbl.is)