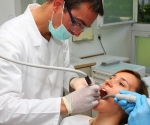 The Grange Dental Practice in Cumbria aims to offer every patient a positive and enjoyable experience in its state-of-the-art practice. All patient's are treated as individuals and treatment plans are designed to fulfil the patient's needs. The staff is well trained with a good knowledge of all the services and treatments offered.
The Cumbria dentist practice offers dental services such as white filling, root canal, crowns, bridges, and dentures. The practice also offers other services including a Hygienist, sedation, implants, Invisalign®, facial aesthetic treatments, and cosmetic dentistry procedures including teeth whitening and veneers.
The practice can also provide patient schemes and finance including James Hull Associates' Dental Health Plan, an employee scheme available for local businesses, and Medenta Finance including 0% subject to status.
The Cumbria dental practice offers a comprehensive range of high quality private treatment in a relaxed, friendly environment, ideal for anyone requiring dental work in the surrounding Cumbria area.
Additional information about the Cumbria dentist can be found at www.jameshull.co.uk.
Moreover, to book an appointment at Grange Dental Practice, see below:
Grange Dental Practice
6 Yewbarrow Terrace,
Grange over Sands,
Cumbria
Tel: 01539 528852
Fax: 01539 538888
Opening hours:
Monday 0800-1700
Tuesday 0800-1900
Wednesday 0800-1700
Thursday 0800-1700
Friday 0800-1700