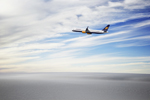 New connecting flights to U.S. have been announced for UK travellers as American airline JetBlue and Icelandair, Iceland's leading airline, recently formed an interline partnership.
This new partnership allows customers travelling from Icelandair's UK destinations; Manchester, Glasgow and London Heathrow, to connect to JetBlue's vast U.S. network with only one ticket. This also means one-stop check-in and baggage transfer between the two airlines.
"Icelandair and JetBlue share many of the same philosophies and place the customer's experience in the highest regard," said Helgi Mar Bjorgvinsson, Icelandair's Senior Vice President of Sales and Marketing. He followed by stating, "Together we will open a new world of opportunities for customers…we look forward to working together and strengthening our relationship into the future."
Icelandair customers can enjoy JetBlue's award-winning service on flights to various U.S. gateways including Chicago, Denver, Fort Lauderdale, Florida, Las Vegas, Los Angeles, and Puerto Rico.
Scott Resnick, JetBlue's director of airline partnerships, also explained, "We're pleased to welcome Icelandair to the JetBlue network as our tenth partner airline. With its reputation for quality service, a comfortable in-flight experience, and an impressive array of connections across Scandinavia and throughout Europe via Reykjavik, teaming up with Icelandair is a great win for customers."
Furthermore, Icelandair will expand its service from Boston and New York/JFK to Reykjavik with twice-daily flights on 1st June 2011 and will launch non-stop service from Washington/Dulles to Reykjavik on 17th May 2011.
Connecting passengers may also stopover in Iceland at no additional airfare to experience the natural beauty and many attractions in Iceland.
To find out more regarding this new interline partnership, and flights to Iceland and the U.S., visit www.icelandair.co.uk.