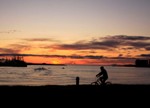 The Le Boreal cruise ship, which can accommodate 264-passengers, will be docking in the Port of Hafnarfjordur this summer. Passengers will have the opportunity to go on sightseeing tours to The Golden Circle (Gullfoss, Geysir, Thingvellir), the geothermal area of Krysuvik, the Blue Lagoon, and city sightseeing tours to Reykjavik.
The magnificent Le Boreal cruise ship will be retuning to Iceland, docking in Hafnarfjordur four times throughout the summer period. The ship is built using "cleanship" standards, allowing it to keep the same offshore location without having to drop anchor.
CEO of the Port of Hafnarfjordur, Mar Sveinbjornsson explained, "We recently had the harbour deepened in preparation for the summer months. The new depth will allow us to accommodate 300 metre long and 8 metre deep cruise ships."
In addition to all of the sightseeing tours opportunities, passengers will have the chance to experience the annual Viking Festival which takes place every year between the 11th and 20th June. The festival involves Viking enthusiasts from all around the world participating in the various activities and events for all the family to enjoy.
Furthermore, the annual 'Bjartir Dagar' festivities also takes place between the 2nd and 6th June with numerous concerts and events taking place in downtown Hafnarfjordur.
Further details about the Port of Hafnarfjordur can be found at www.portofhafnarfjordur.is.