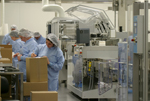 According to reports, generic pharmaceuticals manufacturer Actavis was able to deliver 10 million Levothyroxine tablets to Japan to aid the short supply Levothyroxine tablets after the March earthquake.
Actavis UK was requested by Aska, a joint venture partner of Actavis, on 14th March, after its plant was damaged as a result of the earthquake. By 16th March, Actavis had started sending documents to the Japanese government asking them to grant the product emergency registration, and then on the 18th, 10 million tablets were ready to be dispatched.
After twenty days since the request for the tablets, they arrived in Japan in record time.
UK-Actavis Managing Director, Sara Vincent, promised to "continue our support as required, until the Aska site is back up and running".
Actavis is a leading developer and manufacturer of first-class generic pharmaceuticals. The successful integration of a number of acquisitions has helped position Actavis among the world's largest companies in the industry. Founded in 1956, the Group has more than 10,000 employees operating in over 40 countries around the globe.
To find out more about Actavis, visit www.actavis.com/en.