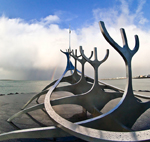 For UK travellers looking to find last minute holidays and cheap deals to escape the bank holiday and Royal Wedding period, Iceland airline Icelandair has announced its extension of the Spring Special package deal to coincide.
The Icelandair Spring Special is the perfect choice for a distinctive, low-cost holiday and can be booked throughout April and May.
In May, temperatures begin to rise and daylight hours gradually increase, resulting in excellent conditions to see some of Iceland's incredible scenery.
One of the most sort-after tourist attractions in Iceland is the 'Golden Circle' tourist route. During the route, visitors have the chance to check out the beautiful National Park Thingvellir; the breathtaking waterfall Gullfoss; and the geothermally active valley of Haukadalur, which contains the geysers Geysir and Strokkur.
In addition, enjoy relaxing in the geothermal spas at the famous Blue Lagoon about 40 minutes drive from Reykjavik and experience the positive effects of the Blue Lagoon's geothermal seawater.
Included within the Spring Special package are flights from either Manchester, London Heathrow, or Glasgow, and three nights in selected accommodation; travelling between April and May.
To book last minute holidays to Iceland and find out about cheap deals to Iceland, visit www.icelandair.co.uk.
Photo: Oli Kristinn http://flickr.com/olafur