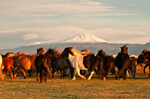 It has recently been announced that this year's Icelandic Horse Festival is to take place between 26th March and 2nd April. The festival, held across various venues in Reykjavik, is suitable for horse enthusiasts of all ages, with parades, horse-farm visits, movies, fairs and more.
The Icelandic Horse is known for its special characteristics and physique. Although sometimes considered to be pony size, Icelandic Horses are extremely strong, efficient and muscular, but still hold a soft manner – making them suitable for riders of any age. They are extremely intelligent, good-tempered, versatile and beautiful too. The Icelandic Horse is the most colourful breed in the world, with over 40 different colours and over 100 variations.
The breed is known as being a 'five-gaited' breed, known for its sure-footedness and ability to cross rough terrain. An Icelandic Horse can perform the most common gaits: walk, trot, and canter/gallop, but also the additional gait known as the 'tolt'. The 'tolt' is a four-beat ambling gait known for its acceleration and speed, as well as being comfortable and ground covering.
Horse enthusiasts across the world celebrate the Icelandic Horse; today, the breed is one of the most purebred horse breeds in the world. The breed has remained pure for over a thousand years and today there is only one breed of horse in Iceland. Horses have also been an integral part throughout Icelandic history, in fact the Icelandic Horse can be traced right back to the settlement of Iceland in the late 9th century.
The Icelandic Horse Festival is set to bring together horse lovers across the world to celebrate the Icelandic Horse. During the festival, numerous activities and showcases will be taking place. Highlights are set to include 'tolt-riding' competitions; trips to the best breeding farms in Iceland; horse shows; markets and crafts; and the 'gobbidigobb' family fair, where the whole family can enjoy horseback-riding, art, and music performances in downtown Reykjavik.
For more information on the Icelandic Horse Festival, visit www.icelandichorsefestival.is. To find out more about Icelandic Horses, visit www.icehorse-experience.is/en/home.
Photo: Oli Kristinn http://flickr.com/olafur