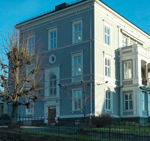 Apartment hotel in Oslo, Villa Park caters for those looking for their own home-from-home in Norway's capital. The Oslo hotel is well suited for business travellers on extended assignments, meetings and gatherings, and families and tourists seeking the luxury of an apartment.
Villa Park has apartments of different sizes and shapes, suitable for one person to groups of people. The hotel apartments are also well adaptable for meetings, with the largest apartments containing extra beds and rooms.
The Oslo hotel is located behind the Royal Palace and Slottsparken, and is in close proximity to downtown, providing a short walking distance from restaurants, supermarkets, bars and other places of interest.
Located in an old villa in Inkognitogaten 26, Villa Park is known as 'The castle behind the castle'. The apartment's nearest neighbours are the King and Queen of Norway, the Prime Minister of Norway and the Swedish embassy.
As standard, all apartments are fully furnished, fully equipped with bed linen, towels, and kitchen appliances and utensils. The kitchen comes fitted with fridges, hotplates, stoves and microwave ovens. The living room is fitted with flat screen TVs and DVD players. Furthermore, most apartments have washing machines, tumble dryers and a free wireless Internet connect for the hotel's guests.
For more information regarding the apartment hotel in Oslo, Norway, visit http://www.villapark.no/GB/