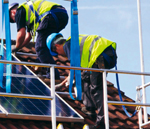 Accredited domestic energy advisors, Eco Home Squad is committed to helping homeowners find energy saving solutions to help reduce utility bills, despite rising UK energy prices.
Eco Home Squad's approach begins with a free home survey, where energy experts inspect the owners home to determine how much energy is being used and where it is being lost.
Following the survey, Eco Home Squad will provide a customised report with an energy savings plan, providing guidance on what DIY measures customers can implement themselves, as well as longer term investments such as Solar PV Panels which will allow them to generate their own energy. The report will also detail how much each step costs, how much energy they will save/generate and the effect on their carbon footprint.
To find out more about home energy efficiency solutions, visit www.ecohomesquad.com. To book a free home energy survey, call 0800 068 4948.