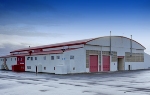 The Icelandic marketing professionals and consultants, Promote Iceland recently signed a contract with Kadeco, owners of the Asbru Enterprise Park, for the marketing of Atlantic Studios; a film production studio for hire in Iceland.
Promote Iceland will now be in charge of marketing Atlantic Studios in order to attract foreign film production companies and advertising agencies to Iceland. The film studio offers filmmakers a wide variety of facilities including a 2,200 m2 soundstage with an extra 2,800 m2 for support areas, a 480 seat theatre for screenings and a swimming pool for ocean scenes.
Atlantic Studios is loctaed in a former aircraft hanger at the ex-american military navel base in Keflavik, just 5 minutes from Keflavik International Airport. The building is 5,000 m2 and with a surrounding 7,000 m2 fenced studio lot.
Several films have been partly shot at the Iceland film studio including The Good Heart, The Reykjavik Whale Watching Massacre and Rokland. Furthermore, many large international productions have filmed on location in the beautiful Icelandic countryside, for example, Flags Of Our Father, Batman Begins and Lara Croft: Tomb Raider.
Further details about the Iceland film studio at the Asbru Enterprise Park in Iceland can be found at www.asbru.is/english/ and to renting the facilities, contact Kadeco on +354-425-2100 or info@kadeco.is.