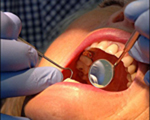 In the November Edition of i-on Magazine, Dr Robin Rother, resident dentist at James Hull Associates' Minto Dental Practice and Implant Centre in Edinburgh, shared his expertise on how to care for dental implants.
During the interview, the Edinburgh dentist and dental implant specialist explained that if looked after properly, there is no reason why implants cannot last for the rest of your life.
He carried on to say that unlike teeth, implants do not decay but as with any surface in the mouth, implants can gather bacteria known as a Biofilm. The best way to avoid damage from the Biofilm is by regular brushing of the teeth with a toothbrush or electric toothbrush and daily cleaning in-between the teeth with inter-dental brushes.
Dr Rother states that implants are designed to be easily maintained and looked after, helping to ensure that your teeth look and feel great for years to come.
At his practice, the Minto Dental Practice and Implant Centre in Edinburgh, Dr Rother offers various Implant services, such as gum health and mouth rehabilitation. The practice also offers a range of dental services including crowns, dentures, bridges, root canal treatment, teeth whitening and veneers.
To find out more regarding the dentist in Edinburgh and dental implants, visit www.jameshull.co.uk. For additional enquiries, see the contact details below:
Minto Dental Practice and Implant Centre
1 Liberton Gardens,
Edinburgh,
EH16 6JX
Scotland
Telephone:
01316 642777
Fax:
01316 646284
Opening hours:
Monday, Wednesday – Thursday 0830-1700
Tuesday 0830-1900
Friday 0830-1200