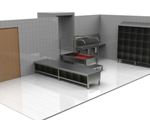 Europe's leading manufacturer of stainless steel equipment and furniture, Teknomek, offers hygiene equipment for organisations looking to carry out manufacturing or R&D activities within a clean, hygienic environment.
In these locations, the choice of hygiene standard products may be restricted due to the limited materials suitable to meet organisational and legislative requirements. However, Teknomek is a specialist manufacturer of stainless steel furniture and equipment and uses 304 grade stainless steel for all its products because of its excellent hygienic characteristics.
304 grade stainless steel furniture is easy to clean and maintain and the surface also self-heals when damaged by the reformation of its passive layer of chromium oxide. These characteristics allow Teknomek products to meet all relevant microbiological and food safety regulations.
In addition, Teknomek offers a hygienic room design service with a dedicated 3D design department. The design team work with customers from the initial design concept through to the manufacturing process.
Teknomek offers a complete costed 3D rendering of the final design so the customer can actually see what the finished result will look like. This approach removes the possibility of project delays and last minute costs due to modifications to get the units to fit the space.
Teknomek provides high quality and cost-effective stainless steel solutions to all hygienic-critical industries such as catering, food processing, pharmaceutical and veterinary.
For further information on hygiene standard stainless steel equipment and furniture, visit www.teknomek.co.uk or for further enquiries, see contact details below:
Teknomek Limited
Tel: +44 1603 788833
Email: mail@teknomek.co.uk