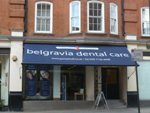 The Belgravia Dental Practice, located in Victoria, Central London, accommodates state-of-the-art facilities and provides high quality specialist dental care including white fillings, crowns, bridges, dentures, root canals, gum health and Invisalign®.
In addition, as well as offering dental and implant services, the London dentist also offers cosmetic dentistry procedures including veneers and tooth whitening. The dental practice also boasts additional services such as Denplan Essentials and 0% finance, subject to status.
The Central London dentist offers a first class service with the support of its efficient and friendly dental team. The London based dentists at Belgravia are committed to educating and informing patients in order to make visits to the practice a relaxed and anxiety-free experience.
With flexible opening times, the dental practice is also ideally located for anybody requiring an experienced, specialist dentist in Central London. The nearby Victoria station also offers great transport links for people in the surrounding area.
For additional information about the London Victoria dentist and its dental services, visit www.jameshull.co.uk or for further enquiries, see the contact details below:
Belgravia Dental Practice
2 Eccleston Street,
Belgravia,
London,
SW1W 9LN
Tel: 0207 730 4948
Fax: 0207 823 4996
Opening hours:
Monday 0900-1700
Tuesday 0900-1700
Wednesday 0900-1700
Thursday 0900-1700
Friday 0900-1700